申し訳ございません、現在このページは日本語で表示できません。
Condition monitoring
with Paessler Building Monitor
Modern buildings are highly digitalized and the availability of building data is the key to this digitalization.
Condition monitoring can make real estate more profitable for stakeholders and enhance the quality of life for residents.
Paessler Building Monitor keeps the monitoring of your properties simple while ensuring performance, reliability, and user-friendliness.
No programming skills required:
From analog on-site data collection to automated remote monitoring
Digitalization of properties
Instead of relying on manual on-site data collection, you can use sensors to measure the condition of properties 24/7. Monitoring solutions translate this data into usable knowledge. Paessler AG has come up with a tailor-made solution for condition monitoring that covers the needs of a modern, competitive asset management.
Unexpected damage to buildings (because of gas leaks, water leakage, legionella, mold, and unfavorable indoor climate, for example) cause high costs and various other issues. The early, digital detection of anomalies can prevent larger damage. Moreover, if resource consumption is consistently recorded, it can be minimized, which reduces operating costs and helps to meet government requirements such as the EED (Energy Efficiency Directive).
Cover various use cases
The collected building data supports real estate managers and other stakeholders with damage
prevention, with the realization of cost and resource savings, with the optimization of energy consumption, and more.
Optimize your property and asset management based on data that is available around the clock.
Damage
Leakages, smoldering fires, and mold can be detected earlier and cause far lower follow-up costs or loss of revenue. This way, insurance premiums can be reduced and estate values can be preserved, among other things.
Maintenance
It is always better to act before any damage occurs. Maintenance enables a more accurate assessment of future requirements and various associated costs. Unexpected damage and costs can be largely avoided.
Resources
With smart metering, you can not only read meters quickly without the need for scheduled appointments, but you can also concretely plan and realize the reduction of energy consumption. This saves money and helps to protect the environment.
This is how Paessler Building Monitor works
Connect IoT devices to our solution via an easy-to-use wizard. Predefined templates provide real added value regarding the practical application of the solution and offer powerful insights. You can use preconfigured thresholds to set alerts and notifications to always know about the current condition of your properties and to secure the value of your assets. Furthermore, it's easy to export data for further processing, if necessary. No programming skills are required!
Our key features
Paessler Building Monitor is based on an SaaS system
that is fully managed and operated by Paessler and includes the following functions:
Easy setup
Installation in a day
Setup without programming skills
Large catalog of supported devices
Data sources
LPWAN (LoRaWAN, Sigfox, and others)
Network server
Flexible and vendor-independent functionality
Insights
Common use cases as templates
Threshold recommendations
Easy addition of custom insights
Alerts
Threshold-based alerting
Notifications via email and SMS
No alert noise – notifications that matter
Reports
Data export to third-party systems
Custom time spans for reports
Evaluation of building data
Your custom solution
Each monitoring project faces unique challenges and has its own objectives. Contact us for your required features.
Structured dashboard
Paessler Building Monitor offers simple yet highly informative overviews of all relevant use cases. You can profit from specific insights to always know if everything's going according to plan. If it does not, intelligent alerts show you the issue at a glance.
User-friendly assistant
It only takes a few clicks to add new data sources and insights to Paessler Building Monitor. You can rely on preconfigured templates for various use cases including default thresholds, and on device templates with a well-structured visualization.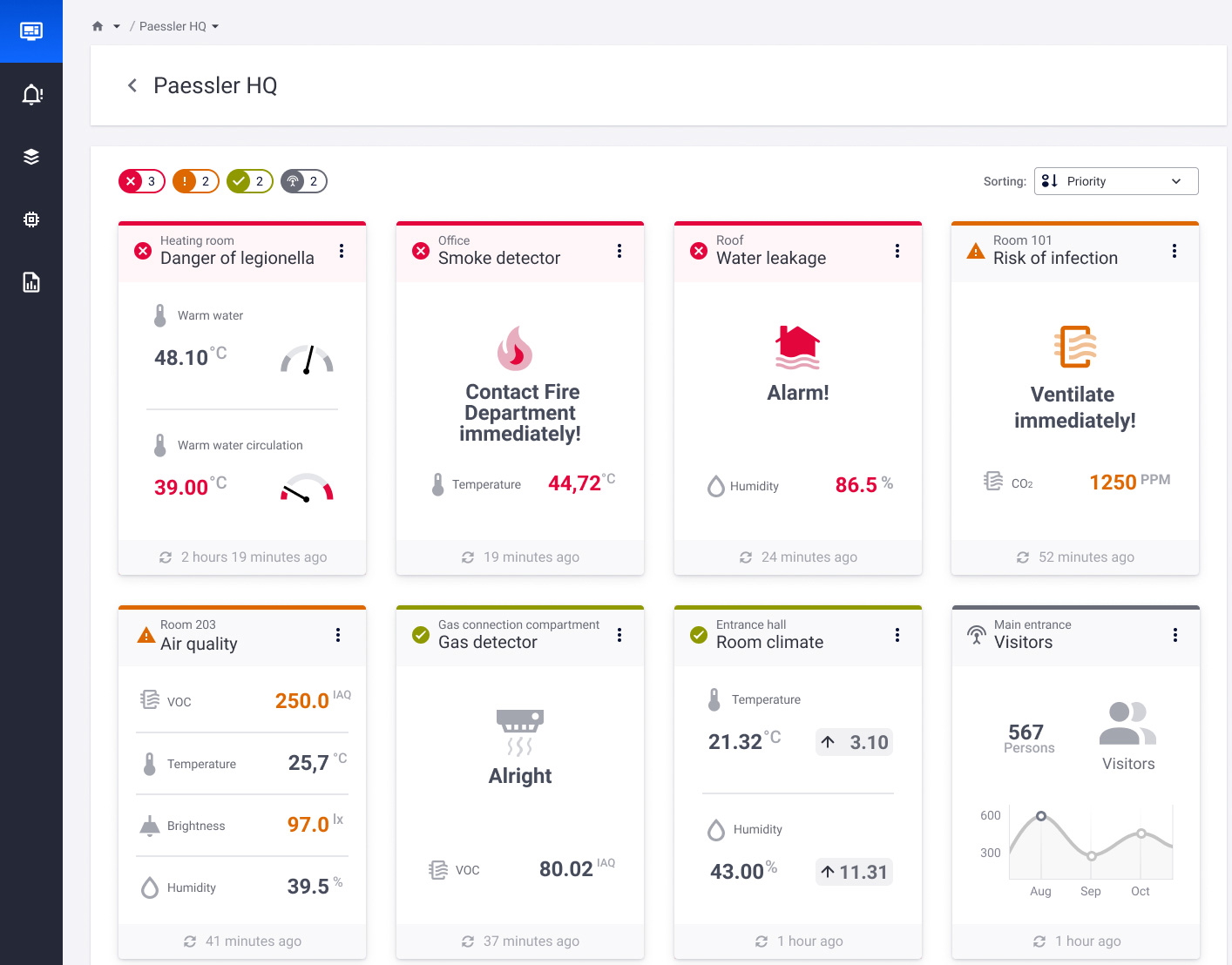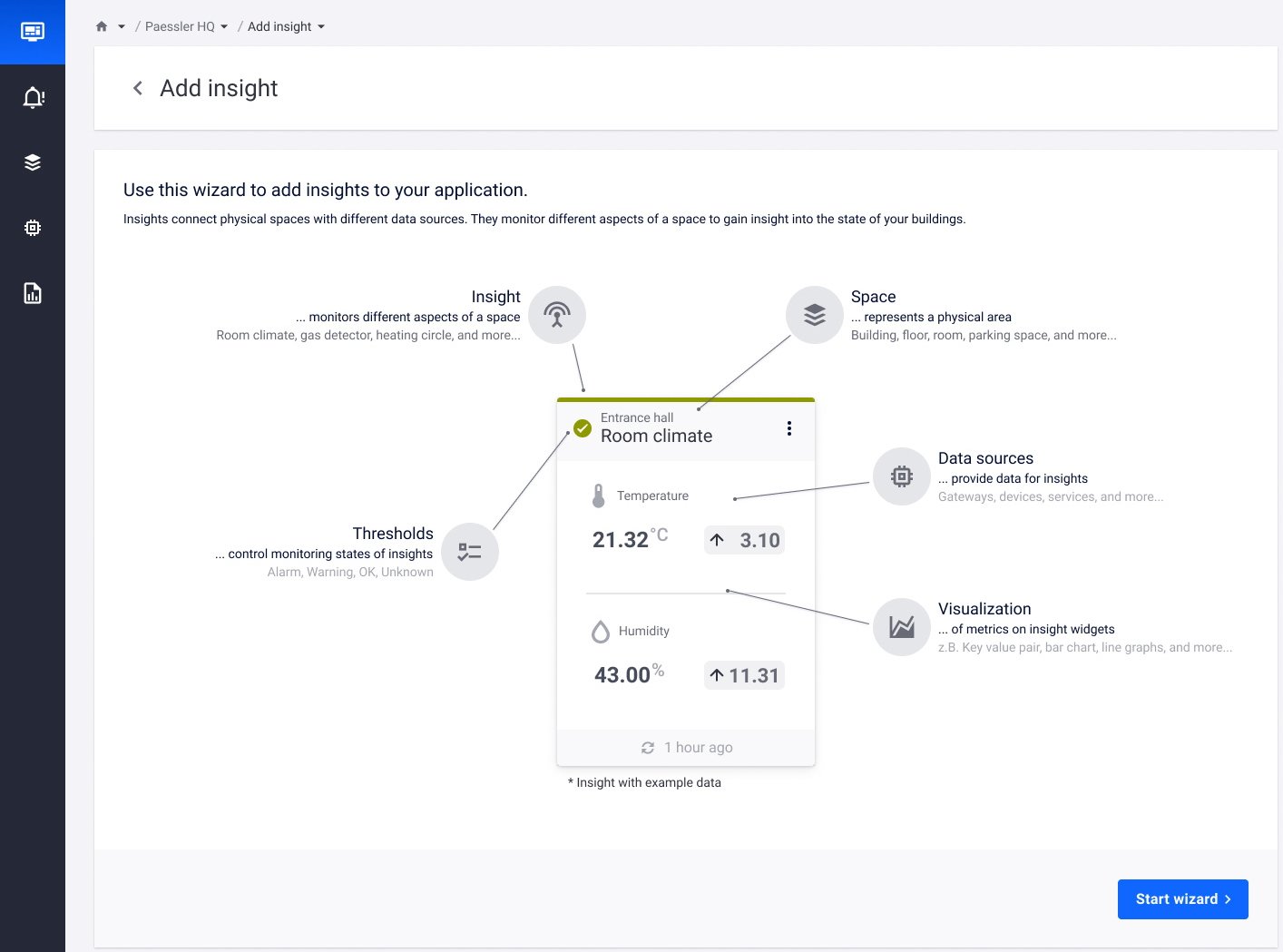 Discover our success stories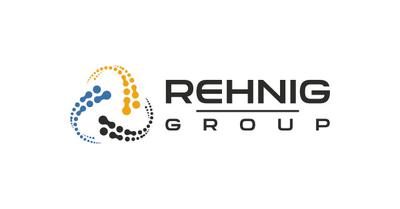 A partnership with a shared vision: Rehnig's collaboration with Paessler to find new solutions for the housing sector digitalization.
Download Casestudy (PDF)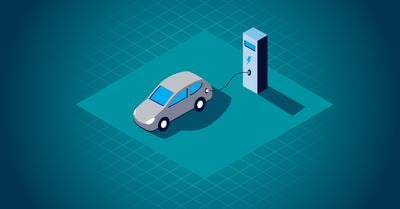 A use case of Paessler AG in cooperation with Smart City System: Parking monitoring with Paessler Building Monitor.
Learn more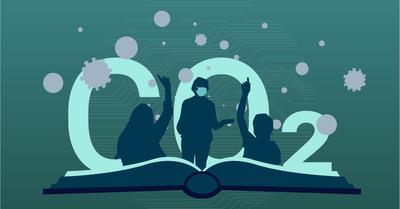 Measurement of CO₂ and other values in schools – why we should approach this task during and after the pandemic.
Read Article
We are happy to help
Condition monitoring requires a good analysis of the status quo, planning, experience, and obviously a lot of
monitoring know-how. The experts of Paessler AG are ready to support you with the best advice for you and your
monitoring project.
Please fill out the form so that our experts can contact you.